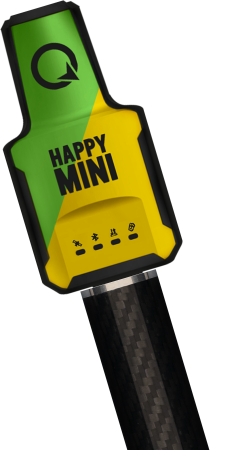 HAPPY MINI
The IMU GNSS receiver designed for QField
The best
GIS


GNSS solution
The
smallest and lightest


GNSS solution
The
smallest and lightest

GNSS solution
The HAPPY MINI Q is small and light but keeps all the features of the big boys: 1408 channels, full-constellation antenna, IMU and excellent performance specially in complex environments.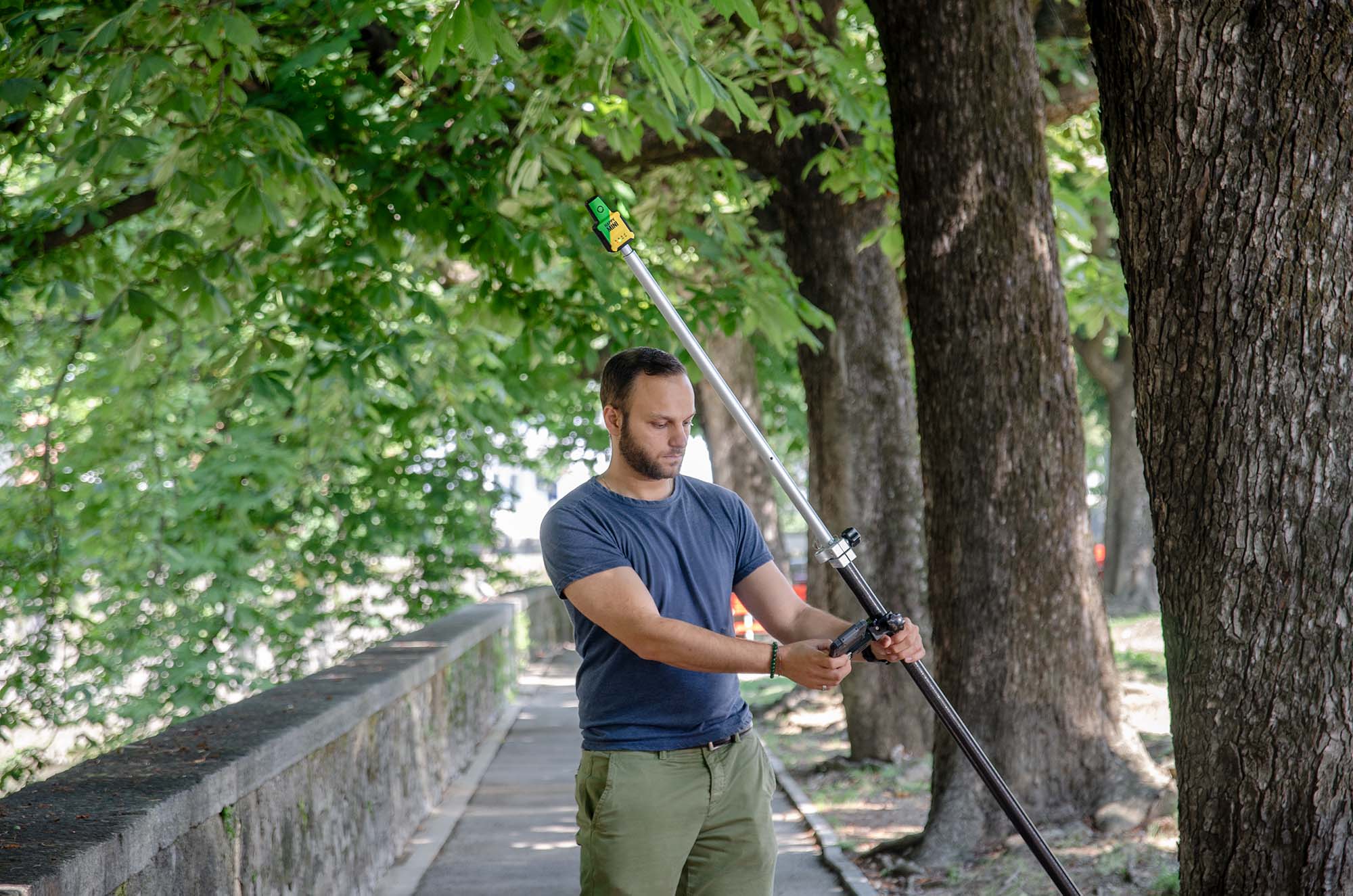 A completely new
perspective
HAPPY MINI Q is equipped with an IMU module that is quick to activate, calibration-free and immune to magnetic interference. Thanks to this technology, it is possible to measure with the pole inclined at an angle up to 60°, maintaining extraordinary precision, and thus being able to reach unthinkable places. Under very good conditions, measurements can also be taken upside down!
HAPPY Q

, your
QField partner
With our HAPPY Q app all connection operations become fast and intuitive: add the sensor via bluetooth, connect to an NTRIP correction network, manage the height of the pole and more.
Easy setup


with HAPPY Q and QField
Select GNSS
Select + icon
Select HAPPY MINI Q
Insert name
Turn on the bluetooth
Allow the access to the location
Select the device*
Select as Default
*search the same serial number
Select NTRIP
Select + icon
Insert your Address IP/Host and Port*
Select your Mountpoint*
Insert name
Insert your credentials*
Select as Default
*the Address IP/Host, Port, Mountpoint and credentials must be requested at your provider
Select a project
Select menu icon
Select settings icon
Select Settings
Select positioning
Select Add
Choose Connection Type: UDP
Select V icon
Activates Show position information
Open HAPPY Q
Connect to the GNSS
Connect to the NTRIP
Move the pole to activate the IMU
Open QField
Open Project
Select Location icon
Thanks to the integrated 1.800 mAh battery and the power-optimized processor low battery problems belong to the past. It provides up to 10 hours of work time and a fast charge in just 2 hours.
Full constellation

high performance GNSS
It is easy to be fooled by the size and the user-friendliness of the HAPPY MINI Q. The truth is that it is a highly professional solution that combines centimetre accuracy with record-breaking operation speed.
*typical under normal conditions
Even smaller,

even smarter
In GIS operations, portability is more than essential. For this reason, we enclose an adapter that allows the sensor to be mounted directly on the smartphone.
Small. Fast.
Accurate.

Complete.
HAPPY MINI Q


Specification
Dimension (mm)
118x52x36
Battery (mAh)
1800
Weight (g)
170g
Startup (sec)
< 20
Channels
1408
GLONASS
L1 – L2
IMU
Till 60°
GALILEO
E1 – E5 – E6
GPS
L1 – L2 – L5
BEIDOU
B1 – B2 – B3
Android
Android 6 or later

QField
QField 2.8 or later